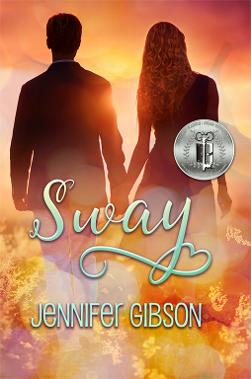 There was something different about Jessie. She struggled to fit in at school, surrounded by a web of lies and deceit...until she met Ethan.

Based on a true story, the novel Sway is about a hearing impaired teenager named Jessie who tries her best to blend in at school. Every day proves to be a test of her resolve when she is constantly plagued by the ruthless pranks of her classmates who are determined to make her life miserable. When a handsome stranger arrives in the nick of time, Jessie wonders if he is too good to be true. Is Ethan's attention genuine, or will he betray her trust, too?

Testimonials:

"Sway is the empowering story of a young-adult who rises above her circumstances and does so with a charm and finesse that is both touching and inspiring. Jessie's encounter with a young man named Ethan is a significant component of this story as she finds true friendship with a sweet romantic element that makes Sway all the more appealing. Jennifer Gibson's depiction of Jessie's story is insightful and moving." - Literary Classics Book Reviews
"Jennifer Gibson sensitively portrays what it is like to live with a hearing loss, while trying to navigate adolescence. The real focus is Jessie and her eventual triumph as she makes new friends, new confidence and a new calling, one where her hearing loss doesn't matter." - Victoria Z. Burg - reviewer, InD'Tale Magazine
"Sway is a beautifully written story that has a moral lesson. I recommend the book to all. Teachers should use Sway to help students understand disabilities and bullying. Parents should read it with their children to help them understand as well. I see this book as a great teaching tool."
- Dawn, Reviewer, Open Book Society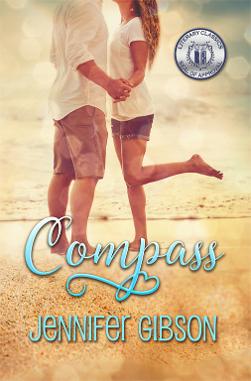 "Being a teenager is hard enough. To be hard of hearing on top of that is like being stuck in the middle of a never ending soap opera."

In Compass, the sequel to Sway, Jessie's life begins to change its course, sending her towards a new reality. When her world is ripped apart by an angry rival, the one person she trusted to stand by her side, simply walks away. With her composure shattered, Jessie questions everything she believed about herself, and as her life takes her on a new path, it becomes a perilous journey, full of surprising twists and turns.


Testimonials:
"Compass is book two in Jennifer Gibson's heartening trilogy about Jessie, a young girl who is hearing impaired. Compass is solid as a stand-alone book, but is a wonderful read when followed by Sway, the first novel in her series which is based upon a true story.
Jessie is a very genuine and likable character struggling with some pretty powerful emotions, some of which she succumbs to, and some which she rises above. But all the while she carries herself with dignity and grace as she searches herself for the truths that will help her sort out who she can really trust.
Compass is delightful, insightful and a joy to read. - This book comes highly recommended and has earned the Literary Classics Seal of Approval." - Literary Classics Book Reviews (5 Stars!)
"Compass continues right along with the story of Jessie and her life as a hard of hearing teenager. I love the way she interacts and helps everyone that needs and will accept it. The way she can get to the heart of a person to help them is a great way to show how she can shine.

This story has a little bit of everyday life with a dash of martial arts and summer camp. You will enjoy the adoring characters and the challenges that they face. It makes you think about the unkind ways people can be treated and why. But most of all, it's about overcoming and moving forward." - The Color of Ink, reviewer
"Gibson has a knack for helping the reader really feel how it must be to be hearing impaired. The sounds that are taken for granted in every day life are not only explained, painted and expanded upon. The author is uniquely adept at creating a sympathetic character that has depth to her personality, then showing that character's growth and tenacity to live life to the fullest." - Rose Mary Espinoza - reviewer, InD'Tale Magazine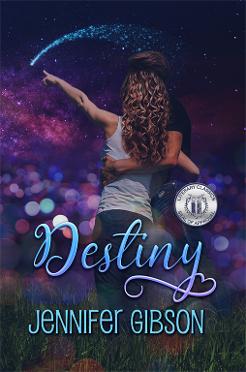 Jessie's journey began in Sway and Compass. As we continue to follow her in Destiny, she stumbles across a revelation that could change everything and finds herself standing on the precipice of life.

Jessie is determined not to let her hearing loss hold her back. She aims her sights even higher as she ventures in a new direction. With a Black Belt on the horizon, and so close to achieving it, she is unaware of the danger closing in on her. Will she be strong enough to hold on or will she succumb to the darkness that surrounds her?
Testimonials:

"Destiny is book #3 in a series about Jessie, a high school student who is hearing impaired. Jessie wants to fit in, she wants to be treated like the other students in her school. But the truth is, she needs to struggle harder than her classmates in order to succeed at most things. It's not an easy road for Jessie. But through it all, as she matures, she gains confidence and becomes a stronger person as she works beyond her disability to achieve her goals.

Author Jennifer Gibson continues to engage and inspire readers as they follow the life of Jessie, a young girl who has learned compassion for others through her own personal struggles. Destiny is a book that will appeal to readers young and old. Destiny comes highly recommended and has earned the Literary Classics Seal of Approval." - Literary Classics Book Reviews (5 Stars!)
Jennifer Gibson's ability to create artistic, mystical book covers is evident with the cover on Destiny, the third book in the award-winning trilogy featuring Jessie McIntyre. Previous books included Sway and Compass. As a noted photographer and illustrator, Gibson's penchant for writing coming of age stories and young adult fiction is captured through the use of diverse characters, an interesting plot and duality of reality with the supernatural. This story is based on real life and its authenticity allows it to address real-life issues. The sexual electricity between her and Ethan was well written and an important aspect of people dealing with disabilities. Destiny is a must-read for all young adults."
- Reviewed By Danita Dyess for Readers' Favorite
"The story focuses on real life issues and I applaud the author tremendously for tackling issues such as bullying and how a teenager can persevere instead of giving up. Jessie deals with being deaf and the novel lets the reader travel along her journey. Destiny reminded me of what a struggle it is for teenagers and then to throw in a curve ball and have the main character be deaf...it was very real for me and enticed me to genuinely applaud and cheer for Jessie, wanting desperately for Jessie to not let her hearing loss stand in the way of her dreams. Destiny was an inspiring read that kept me engaged all the way through." - Reviewed by Sasha Hibbs for BTS Magazine.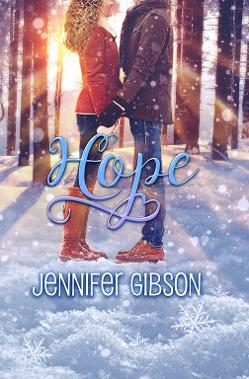 Coming Soon! Arriving in Bookstores on July 2017.
Jessie managed to defy the odds, overcoming a severe hearing loss and achieving a Black Belt. She seemed to have it all, a handsome and devoted boyfriend, success as a karate instructor…until now.
On the cusp of graduating from high school, a shocking injury changes her life. With her heart shattered and her faith destroyed, she finds herself headed in a new direction all alone. As she leaves for college, she needs to find the courage to conquer her self doubt and rediscover hope before it's too late.
Testimonials:
"Jennifer Gibson's new book, HOPE is the kind of story that is good for all ages. Jessie, the main character, shows us how life with a hearing loss can make everything you do a real chal- lenge. Jessie has a lot ahead of her as she enters college and is out on her own for the first time. All of these new obstacles make Jessie stronger and fight harder. Loved this book, well done, Jennifer!" ~ Reviewer, M. Blanchard
"I can picture Jessie and the other characters interacting as I am reading. You are terrific in writing relationships. Great writing and interesting to an "much older" reader as well. Wonderful accomplishment, Jenn! Congratulations!" ~ Reviewer, S. Nelson
"This book, like the other three in the series, is a heartbreaking, heartwarming tale of courage and determination in the face of obstacles that would defeat most of us. Another star in the crown of this talented author." ~ Taylor Jones, The Review Team of Taylor Jones & Regan Murphy
"Gibson excels in her character development, making Jessie both realistic and endearing. You just can't help but root for her and feel her pain. It's a book that I think every hearing person should read, as it can open your eyes to the obstacles facing those with disabilities." ~ Regan Murphy, The Review Team of Taylor Jones & Regan Murphy